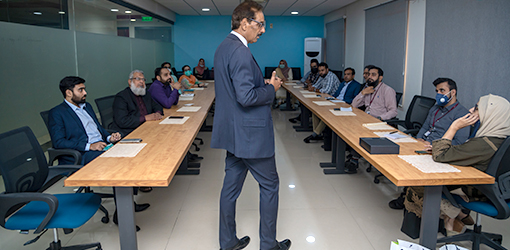 Workshop in Dressing Etiquettes for Professionals
Program Overview
How to put together a 'power look' and smart business casual look'
How to use clothing as a marketing tool?
How to increase your sales through professional dressing?
How you can add value to your company by improving your personal image?
How to become a more effective executive by looking refined, polished, sophisticated, and successful?
How to gain trust and credibility through clothing?
How dressing can help you grow professionally?
How to build a professional wardrobe on a budget?
How to gain confidence & self-esteem through clothing?
How to change people's perception of you through dressing?
How to avoid buying mistakes when shopping for clothes?
How to put effective suit, shirt & tie combinations?
How to determine the best fit for your body type?
How to create personal branding for you?
How to coin a 'signature look' for you?
How to remove emotional 'stigmas' associated with being short or heavy?
How to look taller & slimmer?
How to think like a champion by 'looking the part'?
How to use fashion and trends to keep an updated & contemporary look?
How to build a 'capsule wardrobe' which is effective & works for different occasions?
How to change your attire to transform your life?
Trainer Profile